Forget cities, states, nations. William Knoke has seen the future, and it's a 'Placeless Society' where distance means nothing.
By: CONNIE KOENENN
TIMES STAFF WRITER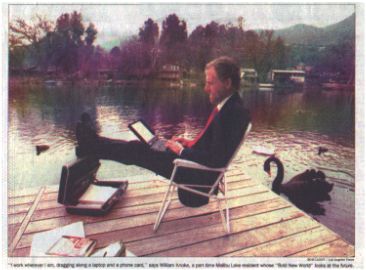 To discuss the future sensibly, economist William Knoke has been forced to create new phrases. Sometimes, they sound like "Alice in Wonderland": "We are entering the age of Everything-Everywhere," he announces.
At other times, he assumes a science-fiction tone: "Our inexorable movement away from the Corporate Form toward a free-flow Amoeba Form will call for new skills in the job market," he writes.
But interwoven with his visionary vocabulary is the everyday language of his expertise as an investment banker who analyzes technological change. "The triple pillars of wealth--labor, capital and raw materials--are obsolete," he proclaims, "and today's singular pillar of wealth is education."
For more than 10 years Knoke (pronounced Kan-OAK), the founder and president of the Harvard Capital Group, has helped business clients strategize for the changing future. Now he is seeking to expand his audience with the publication of "Bold New World: The Essential Road Map to the Twenty-First Century" (Kodansha International).
The book grows out of Knoke's favorite visionary concept. "We are entering the fourth dimension," he tells his readers. "We are living in a Placeless Society."
He does not mean a society in isolation or without anchors, he explained in an interview. "I mean a superconnected society where distances cease to exist, where you can reach about and touch everyone in the world."
Such as? Knoke has a quick example: "If an insurance agent writes a policy in your living room, sends it by overnight courier to Hartford, Conn., where they send it by express courier to Manila, Philippines, where a data-entry operator punches the information into a computer, then ships it by satellite link back to Hartford, where it is sold to a re-insurance company in London, where is the insurance company? All of the above and none of the above."
This is both new and unsettling, he acknowledges. From the beginning of human history, the primacy of "place" in our social structures has been as unquestioned as the force of gravity. "We've defined a nation as a contiguous landmass, a school as classrooms and a corporation as a place where everybody packs themselves into 13 floors of the same building."
But in just a few years, the sweeping revolutions in communications and transportation have destroyed the primacy of place. Now we can view the Gulf War from our living rooms, dispatch a fax from the middle of the desert and send a parcel almost anywhere in the world overnight.
This speeded-up change extracts a price. Knoke's opening chapter summarizes the anxieties of coping in a world that is increasingly placeless, a world where corporate giants trip and fall, engineers with doctorate degrees drive taxis, the economy seems out of control and the political system is gridlocked.
"People have angst because they can see what's falling apart, but they can't see the structures that are taking its place," he said. "But there are new structures, and that's the good news."
Knoke, 42, was discussing this contemporary quandary over a tonic water in a Beverly Hills restaurant one recent afternoon, having just completed a day of radio and TV interviews. "I'm warming up," explained the voluble author, who sets out this week on a 10-city promotional tour. An energetic conversationalist whose affable manner ("absolutely unflappable," said one acquaintance) belies a perfectionist's attention to details, he speaks four languages and has traveled through or lived in 64 countries.
It's his hope that "Placeless Society" will take its place with "Future Shock" and "Megatrends" as household words. "There are going to be a lot of books on the future in the next few years, and I believe I'm well-positioned," he said.
His publisher is banking on it too. "This is our big book for the first half of 1996," said Philip Turner, editor in chief of Kodansha America in New York, a growing division of a Japanese publishing giant. "We're looking especially for people with an insight to provide, and that describes Bill. Placeless Society is a very far-seeing kind of nomenclature. The book is somewhat comforting because it shows us that our anxieties are shared by most people. And ultimately he has an optimistic message."
Knoke acknowledges that he developed optimism as he picked his way through global upheaval. "When I started this book, I had no idea where society was headed, and in one sense I wrote it to answer the question myself of where we're going. Now when I look at the future, I see nothing but opportunity, but only if you're really paying attention."
A graduate of Pasadena High School, Stanford University and Harvard Business School, Knoke says his global consciousness developed in childhood with family trips "that showed me a large world beyond Pasadena." He and his family (wife Evelyne and two children, 8 and 5) split their year between their home near Agoura Hills and his wife's hometown in Rouen, France.
Since Knoke assembles teams from around the world for each banking project, his own firm meets the definition of "placeless," he says. "I work wherever I am, dragging along a laptop and a phone card."
Although this is Knoke's first book and his debut as a futurist, he has been doing his homework for 10 years. In his work with clients, mostly high-tech companies, he has specialized in pulling together information about change and boiling it down to a strategic plan for corporate action. Long a popular speaker before business groups, he sees this book as the logical next step.
To write it, he read about 8,000 journal and newspaper articles ("If I was on a desert island and had to choose one source of information, it would be the Economist magazine"), employed student researchers to track down subjects, and used electronic databases, relying heavily on CompuServe and the Internet.
Early reaction is favorable. "Bold New World" will be issued as a Simon & Schuster audiotape, a British production company is preparing a four-part TV documentary, and Knoke's speaking engagements include the prestigious Carnegie Endowment for International Peace in Washington. He has been signed by the Leigh Bureau, whose speaker-circuit clients include Alvin Toffler, John Naisbitt and Peter Drucker and which reports that the demand for speakers who can discuss change intelligently is booming.
Knoke's Placeless Society--in which distance is irrelevant--foresees the shifting of both corporate and political power from national structures to either global or local entities. Global capital will flow at such a frantic pace that national economies will be uncontrollable and today's stock markets will become extinct. Most routine, repetitive jobs will disappear, and to keep ahead of the technology, people will expect to change careers frequently.
He also foresees a rise in religion, partly out of need for community, and a technologically revamped education system that teaches students how to utilize knowledge rather than just memorize it.
The book is written in a conversational style. Each chapter opens with fictional sketches that dramatically personalize life in the 21st century and closes with how-to-cope advice.
It is helpful, he said, to use placelessness as a prism to help clarify current upheavals. For instance:
* The federal budget impasse: "What's really happening is that the nation-state is becoming an anachronism. National governments are too small to regulate global problems [pollution, terrorism, drugs] and too big to solve local problems. We are gradually strengthening government at both international [the World Trade Organization] and local levels."
* The O.J. Simpson verdict: "We were all in the jury room and now most of us would agree there is a problem with the judicial system. Without television, it could have remained hidden for years. Perhaps with emerging virtual reality technologies, evidence and testament could be recorded and played back to jurors in a sequence without days of waiting behind closed doors."
* Corporate downsizing: "Technology [fax, e-mail, cellular phone and overnight package delivery] is connecting people directly, collapsing the traditional middle-manager hierarchy in large corporations. In the 21st century we will see a rise of the amoeba form, where clusters of individuals can work together, connected electronically, to perform the same functions of today's corporate behemoths. This will give new opportunity to small businesses and entrepreneurs."
And while he foresees dark sides, such as a rise in international terrorism, accommodated by technology, in other instances the changes are positive from the start, he said. Oregon's recent first vote-by-mail election not only saved money but attracted a record 68% of the eligible voters, providing, Knoke said, a low-tech example of placelessness. "In the future we'll be able to vote electronically from wherever we are, thus enhancing the voter turnout and democracy."
As far as the commonly expressed fear that we shall become a nation of isolated individuals, staring at flickering TV screens, Knoke maintains that we've already hit bottom in that respect. "Today's broadcast television is completely passive," he said. "Once this interactive stuff gets developed, it can be mind enhancing. You can have programs to explore your passions, no matter what they are, or where you are."
__________
PHOTO: "I work wherever I am, dragging along a laptop and a phone card," says William Knoke, a part-time Malibu Lake resident whose "Bold New World" looks at the future. PHOTOGRAPHER: BOB CAREY / Los Angeles Times